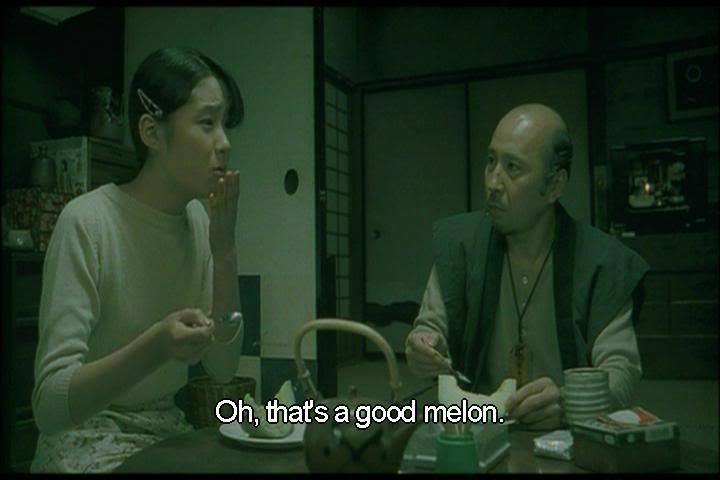 RULE NUMBER THREE FOR QUITTING WORLD OF WARCRAFT: Fly to China.

At this point, you will have experienced tumors, bandages, and maybe even a naked midget. IT'S TIME TO GO TO CHINA. Going to China is important because it will remind you how vibrant and full of life the World of Warcraft is. China is a dreary, soul-crushing expanse of low-low prices and high-high-class art galleries (which are in a basement). But if you're really committed to quitting World of Warcraft, China does have one thing that your country doesn't.

GIRLS. If you've been reading your History books, you'll know that every girl in the world comes from China, just like ceramic dinnerware and pencils. Well, pencils might actually be HECHO IN MEXICO, but let's not get crazy. You may be thinking, "C Tango, you've gone almost a whole paragraph without mentioning World of Warcraft." That's right, Chemo-wasabe, and you will too, that's what the girl you will purchase in China is for.

GOLDEN RULE ABOUT GIRLS FROM CHINA: They will get angry at you for playing World of Warcraft and forgetting to place an international call to their cell phone. They will also get angry at you for sleeping even though there is a 14 hour time difference and you have work in the morning.

AHA, you may be thinking, so I'm to go to China, purchase a girl, fly back to America after promising to call her and write her everyday, get a job so I can buy a plane ticket for her to come visit, all the while coordinating with my best friend, WHO IS STILL LIVING IN CHINA, so that the girl I purchased can acquire a Visa to come visit the U.S.? And this will let me quit playing World of Warcraft?

NO.

But it's the start. See, coordinating phone calls in a long-distance relationship is one thing. Co-ordinating them while your purchased girl is still in China AND you play World of Warcraft, THAT IS SOMETHING ELSE ENTIRELY. You should be experiencing massive fatigue and dry mouth, during this time of your life, as the most important rule for quitting World of Warcraft becomes apparent.

GOLDEN RULE ABOUT WORLD OF WARCRAFT: It is a full time job, but somebody has to do it. And that somebody is you. By now you will have been playing "WoW" for about a year. THIS IS NORMAL AND HEALTHY, AS IS THE EXTREME DEGREE TO WHICH YOU IDENTIFY WITH YOUR CHARACTER. However, you went and bought a girl, completely on a whim, on your last day in China, and you've never owned a girl before, so you're really excited about her, and you want to keep her and bring her to you, BUT YOU ALSO WANT TO PLAY WORLD OF WARCRAFT.

RULE NUMBER FOUR FOR QUITTING WORLD OF WARCRAFT: Get rid of your girl.

I don't mean in the Pimptacular way, I mean have her fail her Visa interview. This will allow you to break up with your girl over the phone, while she plays guitar to you and cries, having only been with her that one night, right before you got on the plane back to America. Be sure to stay on the phone way longer than is decent or natural. THIS IS NORMAL. Console yourself, while you sit staring at the wall, listening to her cry, that pretty soon you will be back flaying Orcs and slaying Boars.

GOLDEN RULE ABOUT BREAKING UP OVER THE PHONE WITH THE GIRL YOU GOT WITH IN CHINA: There are boars of every level. There is no level in the game where you cannot just go out and "kill boars." This is the key to World of Warcraft's allure and success.

At this point, you will realize that the article has been more about the girl you got with in China, and less about actually quitting World of Warcraft. QUITTING WOW IS A FULL-TIME JOB, AND YOU NEED TO GET BACK TO IT.

Begin making static noises with your mouth. This is the international signal that you are "breaking up." This will signal the girl to stop playing her guitar and go out onto her balcony. Tell her that, no, it's still not better, you think it's your phone. Go outside. Tell her there is nothing you can do to fix it, and then make even louder noises. This will signal the end of the conversation as you completely break up. QUITTING YOUR RELATIONSHIP WAS A DRY RUN FOR QUITTING WORLD OF WARCRAFT. YOU SHOULD NOW FEEL MUCH MORE CONFIDENT IN YOUR ABILITY TO QUIT THINGS.

SIT BACK DOWN AT YOUR COMPUTER. A wave of relief will wash over you as you realize that you will now have much more free time to devote to quitting World of Warcraft. Only one thing could make this moment complete.

RULE NUMBER FIVE FOR QUITTING WORLD OF WARCRAFT: Quit your job.

Since you've got all that QUITTING MOMENTUM from quitting your girl, why not call up your employer? Tell them you're having trouble with your roommates and you're frantically searching for a new place to live. Tell them one of the guys said he was paying rent, but he hadn't been, and now you're all getting evicted because he hid the notice. MAKE SURE YOU SAY THIS IN THE OTHER ROOM SO YOUR MOM CAN'T HEAR YOU. At this point, your conversation should be headed here:

YOU: Yeah, so, I'm not sure I'll be able to come in for a few days. I've got to move all my stuff to storage while I look for a new place.
EMPLOYER: Well, I hate to hear it, but I understand there is nothing you can do. You can't even come in this afternoon?
YOU: I don't know, it really depends. My friend is supposed to be bringing his truck over, but he doesn't get off until 5. I've just been packing all day.
EMPLOYER: We have you scheduled through the end of the week. Do you think you'll make it in on Thursday?
YOU: I hope so. I'll give you a call as soon as I know anything.

Hang up the phone. NEVER CALL YOUR EMPLOYER AGAIN. When he tries to call back, have your Mom say, "This is the landlord....oh, no, he doesn't live her anymore, sorry. No, I don't have a number for him." After she gets off the phone, she will look at you disapprovingly. This is normal. CONGRATULATIONS, YOU CAN NOW FOCUS ON QUITTING WORLD OF WARCRAFT FULL-TIME.

Upon returning to World of Warcraft, you will notice that you have WASTED SO MUCH TIME. People will be running dungeons. They were going to ask you to go, but you weren't online. THANK GOD YOU HAVE MORE FREE TIME NOW. Things like this shouldn't happen anymore. You hunker down to complete all of your Dungeon quests.

RULE NUMBER SIX FOR QUITTING WORLD OF WARCRAFT: You need to run every dungeon at least 8 times. This will help you level up and make sure you have all the proper gear to continue leveling up. IT IS IMPORTANT TO GET ALL THE BEST GEAR FOR YOUR LEVEL SO YOU CAN REPLACE IT IN THREE LEVELS.

This will begin your Golden Age of Warcraft. Freed of the trivial concerns of everyday life, your days will consist of the following:

Waking up at 3 PM.

Eating a Hot Pocket.

Questing for 16 hours.

Dancing on a mailbox.

Going to sleep.

Dreaming about World of Warcraft.
If done properly, this
phase
should
last
about
8 or 9 months
. It will occur to you that, if that
China
girl was
pregnan
t, you would've heard about it by now, so it all must have
worked
out.
IF ANOTHER PLAYER KILLS YOU, BE SURE TO TELL EVERYONE IN YOUR GUILD AND MAKE THEM COME KILL HIM BACK.

RULE NUMBER SEVEN FOR QUITTING WORLD OF WARCRAFT:
Create another character. This is your "alt." Having an alt lets you play another class, just to see what it's like. You can also send things to it to free up room in your bags.


FREEING UP ROOM IN YOUR BAGS IS VERY IMPORTANT FOR QUITTING WORLD OF WARCRAFT.


By this point, your
parents
should have
kicked
you
out of the house
. You
will be
living on a couch
in a living room
. Someone will
ask
you to be the
Director of Photography
for their student film. You will probably do a
fantastic job
. This will lead to another job and
BEFORE YOU KNOW IT, YOU HAVEN'T PLAYED WOW IN 5 MONTHS.
Once the second film is over, be sure to
drink
and party
every night
. You will not have a choice,
BECAUSE YOU LIVE IN A LIVING ROOM AND THAT'S WHERE PARTIES HAPPEN.


Before long, everyone will begin to focus on Finals. DO NOT PANIC, YOU ARE NOT IN COLLEGE. Be sure to watch TV a lot. You will begin to wonder why you are so bored at night. You remember that you had to uninstall World of Warcraft to make room for some movie footage.
RULE NUMBER EIGHT FOR QUITTING WORLD OF WARCRAFT:
Re-install World of Warcraft.


That was a close one.
You
almost
quit
World of Warcraft
without
even
realizing
it. Quitting World of Warcraft must be done at the
proper pace
and in the
proper time
. Be sure to
get all of your friends to play again
, because they will most likely have been
more responsible
than you and
stopped playing
without your constant calls telling them to
log on and "run ZF."

This period is what is known as the Second Renaissance.


Even though you are now living on a couch with less than $15 dollars a week, you will find that you are playing World of Warcraft more than ever. This will lend a sense of urgency to your questing and lead to unprecedented productivity. You will even finish all your quests in Sunken Temple. Your friends will pick up on your sense of urgency and somehow out-level you, even though you're the one who got them to play in the first place.
RULE NUMBER NINE FOR QUITTING WORLD OF WARCRAFT:
Use MySpace to compulsively hit on the Assistant Director from the movie you just finished.


This will lead to a scandalous adventure into debauchery. When she asks you if it means you are a couple, be sure to say, "Yes."
GOLDEN RULE ABOUT QUITTING WORLD OF WARCRAFT (did we already have one?): Living with your girlfriend is the most important step to quitting World of Warcraft. That's why it's a Rule and not a Step, even though I just called it a Step. There has only been one actual Step between both of these articles, and that was Step One, which was buy World of Warcraft.

SIDE-NOTE ABOUT LIVING ON A COUCH:
If you are living on a couch, it is because you don't like having a day job. If you don't like having a day job, there is only one way to get off the couch.
HAVE A GIRL ASK YOU TO MOVE IN WITH HER.

This is not that hard, but if you can't make it happen, you do not deserve to quit World of Warcraft.
(For hints on how to get a girl to ask you to move in with her, see the image at the top of this article.)
Make sure the girl still has at least one more year of college. This will let you live with her in secret, because her parents are hundreds of miles away and don't realize they are paying rent for two people. If they come to visit, be sure to stay with friends and to hide your computer in the hall closet.
BE SURE TO MAKE HER HOUSEMATE HATE YOU SO YOU ARE FORCED TO MOVE.
When she has to explain to her parents why she has to move, make sure the conversation goes something like this:
HER:
I don't know, she said she was paying rent, but I guess now she can't. I can't afford this place on my own, so I found a new place....YES, I can do that on my own....My movie friends are helping me....NO, I don't need you to come up....I don't know, it really depends. My friend is supposed to be bringing his truck over, but he doesn't get off until 5. I've just been packing all day
.

CONGRATULATIONS, YOU NOW HAVE YOUR OWN ROOM AND A YEAR TO QUIT WORLD OF WARCRAFT!

Important Things To Do During This Time:

Look for a job once a month.


Order a lot of pizza.

Start, and completely level, 6 other characters.

Notice the poor circulation in your left arm.

Sleep 5 hours a night.

Dream about WoW 5 hours a night.

Wake up after 5 hours because you have things to finish in WoW.

Join a bigger guild.

Run ZG.

Hear your guild's voices in your sleep.

Remind everyone that you can quit anytime, but you don't want to because it's cheaper than going to the movies all the time.
At this point,
Blizzard Entertainment
will release an
Expansion Pack
for
World of Warcraf
t. You have been living on one meal a day, and five hours of sleep a night, for about 7 months. Your eyes will be sunken, and you will feel slight pains in your chest every now and then, and will only be showering once a week.
THIS IS NORMAL AND HEALTHY. WORLD OF WARCRAFT IS NOT ADDICTIVE. YOU CAN QUIT ANY TIME. YOU ALREADY PAID FOR THE MONTH, SO IT WOULD BE A WASTE TO NOT PLAY.

YOU DECIDE TO TAKE CONTROL OF YOUR FATE AND QUIT WORLD OF WARCRAFT.
You tell everyone that you will
NOT
be buying the Expansion Pack. You look forward to making a clean break and finally getting some sleep, a job to help pay the rent, and spending quality time with your girlfriend. But you forgot one thing.


QUITTING WORLD OF WARCRAFT IS NOT YOUR CHOICE TO MAKE.


You will now take a short hiatus from playing World of Warcraft. You will randomly download any number of free, Korean-made, MMORPGS (that's an acronym for game with a lot of people on an Internet), all of which are poor, Methadone-like, substitutions for WoW. Your girlfriend will point this out. You realize you can stop playing these games, which are just as time consuming as World of Warcraft,
OR:

RULE NUMBER TEN FOR QUITTING WORLD OF WARCRAFT:
After loudly proclaiming to your guild that you will not be buying the Expansion Pack, BUY THE EXPANSION PACK. Be sure to create and fully level at least 3 more characters. This should only take about 6 more months. Be sure to get your girlfriend to start playing because you think it will make her stop complaining that you play too much. HANG YOUR HEAD when you realize all her playing means is that you NOW HAVE TO HELP HER LEVEL. Be sure to recruit her brother, too.
IF YOU READ THIS WHOLE THING, SORRY, HERE'S THE PART WHERE YOU REALLY LEARN HOW TO QUIT WORLD OF WARCRAFT.
Things You Need To Do To Quit World of Warcraft:

Don't have any money of your own.

Have your girlfriend graduate college. This will make her parents come and move her out of the room you have been sharing, even though they don't know that she even has a boyfriend. Be sure to hide your things before they come.

Be completely cut off from World of Warcraft for three weeks while you live at your friend's parents' house.


Decide to move to Hollywood even though you have no job prospects or money.

Don't have enough money to keep playing World of Warcraft.
THAT IS HOW YOU QUIT PLAYING WORLD OF WARCRAFT. Notice how none of them involved choice. OH MY GOD INCOMING TONE OF SERIOUS WITH CAPSLOCK ON BASS.

THE REAL GOLDEN RULE FOR QUITTING WORLD OF WARCRAFT: Anyone in the habit of playing World of Warcraft every day CANNOT STOP playing, at least not on their own. World of Warcraft supplies an endless series of short-term goals, making it seem possible to beat the game if you just keep at it. IT IS NOT POSSIBLE BECAUSE BY THE TIME YOU ACCOMPLISH THOSE GOALS, THEY HAVE ADDED NEW GOALS, MAKING THE REWARDS FROM THE OLD GOALS OBSOLETE.
By this point, the majority of your social contact comes from the game, and your priorities are those of the game world. You will suffer from an extreme feeling of being left behind, and will constantly engage in menial tasks on the assumption that they will lead to making your character more powerful.
YOU WILL BE CONSUMED WITH IMPROVING YOUR PERFORMANCE BY FRACTIONS OF A PERCENT, AND YOU WILL CEASE TO THINK ABOUT ANYTHING BUT THE GAME, EVEN WHILE YOU SLEEP. No matter what you THINK you want to do each day, you will wake up and sign onto WoW before you even realize it.


WORLD OF WARCRAFT IS NOT ADDICTIVE, YOU CAN QUIT ANYTIME.

THE ONLY WAY TO QUIT WORLD OF WARCRAFT IS TO BE FORCED INTO CIRCUMSTANCES WHERE YOU CANNOT PLAY FOR A LONG PERIOD OF TIME. Do not be surprised if you see a dead baby crawling on the ceiling. There is a word for this time:

DETOX.

If this does not happen, you will not quit playing.

In conclusion: WORLD OF WARCRAFT IS A DRUG AND THE ONLY WAY TO QUIT IS TO TREAT IT LIKE ONE.

Just like The Lord of the Rings.



"Oh, that's a good melon."